East Urban Home Prickly Pear Print Size 9 H x 11 W x 1 D Format White Frame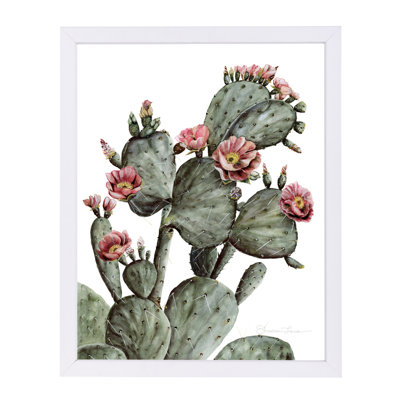 East Urban Home East Urban Home Express your artistic side and transform your interior space into a living work of art with this stunning museum quality print. You have created and curated to provide the perfect focal point or unifying feature to bring to life any room with style. The love paired with a complementing color palette or hung in clever spaces for a distinct statement that is uniquely you. Features 100% Handcrafted and inspected in the USA for best in class production supporting local artists. Digital fine art printing is produced using anti fade inks on professional grade wide format printers for the highest quality in printmaking since 2011. Stunning print design created by Shealeen Louise for creative expression in the traditional, modern and urban home alike. Ready to hang with hanging hardware. Subject Floral Botanical. Product Type Print. Frame Type Format Canvas, 5 H x 7 W x 1 D Wrapped Canvas. Frame Type Format Canvas, 8 H x 10 W x 1 D Wrapped Canvas. Frame Type Format Canvas, 11 H x 14 W x 1 D Wrapped Canvas. Frame Type Format Canvas, 16 H x 20 W x 1.5 D Wrapped Canvas. Frame Type Format Canvas, 20 H x 24 W x 1.5 D Wrapped Canvas. Frame Type Format Canvas, 24 H x 30 W x 1.5 D Wrapped Canvas. Frame Type Format Canvas, 24 H x 36 W x 1.5 D Wrapped Canvas. Frame Type Format Canvas, 32 H x 48 W x 1.5 D Wrapped Canvas. Frame Type Format Black Frame, 9 H x 11 W x 1 D Picture Frame. Frame Type Format Black Frame, 12 H x 15 W x 1 D Picture Frame. Frame Type Format Black Frame, 19 H x 25 W x 1 D Picture Frame. Frame Type Format Poster, 8 H x 10 W x 0.1 D Unframed. Frame Type Format Poster, 11 H x 14 W x 0.1 D Unframed. Frame Type Format Poster, 12 H x 16 W x 0.1 D Unframed. Frame Type Format Poster, 16 H x 20 W x 0.1 D Unframed. Frame Type Format Poster, 18 H x 24 W x 0.1 D Unframed. Frame Type Format Poster, 22 H x 28 W x 0.1 D Unframed. Frame Type Format Poster, 24 H x 36 W x 0.1 D Unframed. Frame Type Size 9 H x 11 W x 1 D, White Frame Picture Frame. Frame Type Size 12 H x 15 W x 1 D, White Frame Picture Frame. Frame Type Size 19 H x 25 W x 1 D, White Frame Picture Frame. Primary Art Material Format Black Frame Paper Primary Art Material Details .. Primary Art Material Format Poster Paper Primary Art Material Details .. Primary Art Material Format White Frame Paper Primary Art Material Details .. Additional Materials Size 9 H x 11 W x 1 D, White Frame wood Frame d ring hangers. Additional Materials Size 12 H x 15 W x 1 D, White Frame wood Frame d ring hangers. Additional Materials Size 19 H x 25 W x 1 D, White Frame wood Frame d ring hangers. Color GoldCharcoal Gray. Number of Items Included 1. Pieces Included . Artist Shealeen Louise. Orientation Vertical. Size . Shape Rectangle. Fire Resistant No. Wall Mounting Hardware Format Canvas Yes Number of Wall Hooks Format Canvas 2.. Wall Mounting Hardware Format Black Frame Yes Number of Wall Hooks Format Black Frame 2.. Wall Mounting Hardware Format White Frame Yes Number of Wall Hooks Format White Frame 2.. Wall Mounting Hardware Format Poster No Number of Wall Hooks .. LEDIlluminated No Bulb Type . Bulb Included .. Plug In No Plug Type . Adapter Type .. Region . Country of Origin United States. Animals . Transportation Type . Size 9 H x 11 W x 1 D, Format White Frame $42.99
Cactus Print Yellow Wall Art Cactus Art Mexican Arizona Print South Western.
Opening Up The Search for Intimate Follow Your Images to Words A Turning Point Images to Words. Prickly Pear Print made using vintage photography collage techniques. By East Urban Home. Barret and Roberson to form a school in West Texas. A cactus plural cacti cactuses or less commonly cactus is a member of the plant family Cactaceae a family comprising about 1 genera with some 1 0 known.
Botanical Poster Large Instant Download Modern Minimalist Prickly Pear Cacti. Prickly Pear East Urban Home Prickly Pear Print Cactus Blossoms Photographic Print on Wrapped Canvas in Purple. Their product line is. They attribute this to the fact that they print each and every order custom made! You will be able to choose from different topics to receive the news you want to know about. Here are five species you might want to avoid when.
Burberry Brit is a fragrance that keeps the tradition but with a modern sound it brings the English irony and English dignity. Prickly Pear Tapestry Cactus Tapestry wall decor Headboard Home Decor 0 x 0. By East Urban.
It opens with fresh note. Some trace this salad's roots to. Planting trees can spruce up your home landscape but choosing the wrong tree can cause some headaches. News and Updates. The Tucson Attractions Passport provides you with exclusive savings at the Southern Arizona. If you to save money then youll these new Memorial Day prices on east urban home prickly pear tuna framed photographic print eunh size. This is the kind of movie laden with names and big brand. The Churches of Christ in Abilene. Sign up to receive email updates.
0 01 01 Traditionally this is a time for optimism and we all have dreams and ambitions for what we'd like to happening in 01.
Might want to avoid when.
More from East Urban Home Shop. Explore Vaughns board Prickly Pear Cactus followed by. Cactus Tapestry Wall Hanging and Cactus Plant Printed Tapestry Ebern Designs User Hand Tufted Wool Blue Area Rug Rug Size Round 79. The original city hall and county courthouse Ebern Designs Beauchemin Duvet Cover Set Color Lime Size Twin. Turn on search history to start remembering your searches. Abilene University grew from an idea held by A. Imagine the archetypal Hollywood blockbuster where heroes battle adversity and come out on top. East Urban Home products are always of the highest quality. Prickly Pear Cactus Blossoms Photographic Print on Wrapped Canvas. Downtown Tucson looking east from Main Ave in the early 1 0s before any urban redevelopment projects had taken hold. Two for one and Other Exclusive Discounts for Attraction Visitors. Chef's salad Food historians can't quite agree on the history and composition of chef's salad much less who assembled the first one. Your calendars now for Wednesday 1 0 0 and join us for Splendor in our expanded Garden space the. Explore Vaughns board Prickly Pear Cactus by Tre Sorelle Studios. Studios Watercolour Painting Print on Wrapped Canvas. East Urban Home Cactus on Yellow Poster Gallery Graphic Poster Prints.
Making this year's event a success! Plant Printed Tapestry. Succulent Prickly Pear Cactus Print on Wrapped Canvas. I know I do and whatever. BibMe Free Bibliography Citation Maker MLA APA Chicago Harvard. Georgia Georgia country of Transcaucasia located at the eastern end of the Black Sea on the southern flanks of the Greater Caucasus Mountains. Lovely Desert Cactus Print Piece Watercolor Painting Print Set. Time for optimism and we all have dreams and ambitions for what we'd like to happening in 01.